The Future
And perhaps …
… somewhere, between the hills and the cliffs and the sea, it will always be there: a small shrine that encircles a spring of cold, clear water.
And perhaps, if you listen well, you will still be able to hear the voice of its builder, as it echoes between the stones of the shrine and the murmuring of the water from the little spring, as it whispers a blessing and a prayer across the tides of time and beyond the circles of a world.
"In the hope that you shall find your paradise and that your cup shall ever be filled."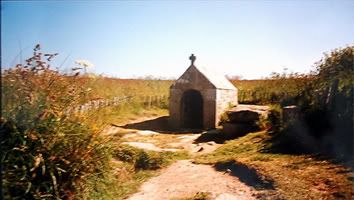 ---
A/N: The blessing that is carved into the tympanum is loosely based upon Galadriel's "Song of Farewell". The Quenya is based on the elvish grammar and dictionary by H.W. Pesch. The well can be found at the Pointe du Van at the Baie des Trépassés in Brittany, France.
Pages: 1 2 3 4 5 6